Win Football Flick Urban - the world's number one skills trainer!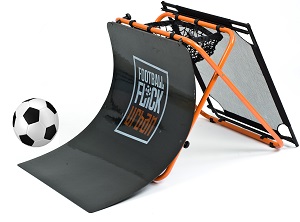 We're giving THREE lucky winners a Football Flick Urban skills trainer to use at home or with their team.

Football Flick Urban is designed to enable single or multiple players to hone their football technique.

The 3-Dimensional skills trainer features three very different elements that will help improve your game.

A smooth curved Front Ramp and angled flat Rear Ramp allow players to pass balls and receive them back at different heights, speeds and angles, to test their skills, precision and accuracy in ball control. The final element is a Net in the middle of the frame, designed as a passing target which will test your volleying accuracy and ball juggling skills.

Football Flick Urban can be used by individuals for Serious Play, providing endless fun in trying out new skills, or by teams who want to Play Serious and use it as a training device that will improve control, touch and volleying technique.

Whether playing alone or with your team mates, whether you want to be the next Lionel Messi or just try out a few new skills and tricks, Football Flick Urban will bring imagination, expression and fun to kids, teenagers, young adults and families alike.

Football Fluck Urban is fully endorsed by brand ambassador John Farnworth, the world's number 1 Freestyle Footballer and holder of many Guinness World Records.

To find out more visit footballflick.com or check out the video below.


How do I enter?
To get your name in the hat for this fantastic prize, please complete a few details and answer the following question...
Have you won a new Nike kit and a supply of Bio-Synergy products?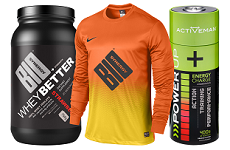 Last month we teamed up with Bio-Synergy, market leaders in the sports nutrition industry, to offer one lucky team an amazing prize: a brand new Nike kit for your squad plus a large supply of Bio-Synergy sports nutrition products to boost your team's performance.

Thanks for all of your entries and many congratulations to our lucky winner: Robert Kerr of Eastwood Juveniles FC.
If you didn't win this time around, don't worry - there's always another chance to win just around the corner with Club Website!