Win your team a brand new Errea kit for the new season!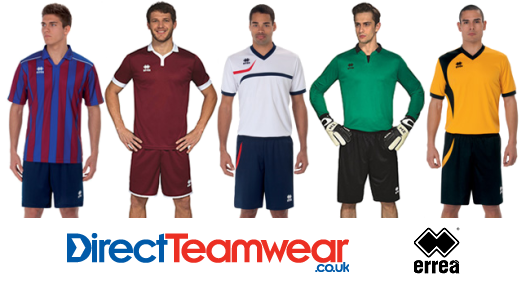 The new football season is upon us and we'll be giving one lucky team a fantastic boost for the start of the new campaign!

We've teamed up with Direct Teamwear to kit out one lucky squad in a snazzy new Errea kit worth up to £420.

Errea are one of Europe's top kit manufacturers, with a number of top sides on their books, including Serie A's Parma and Championship sides Norwich City and Blackpool.

Direct Teamwear stock Errea kits and now, courtesy of Club Website, you can win one for your squad (16 players), with a choice of five different styles in over 60 colourways.

Direct Teamwear's aim is simple - to provide a range of high quality football kits and training wear at low prices. They always offer great value without compromising on quality.

Their range of training wear includes tracksuits, polo shirts, poly T-shirt/short sets, sweatshirts and rain jackets, while their club wear range includes hoodies, T-shirts, caps and beanies - all at amazingly low prices.

All Direct Teamwear kits consist of 15 shirts, 15 shorts, 15 pairs of socks AND a full goalkeeper's kit, meaning you can kit out a full squad of 16 players from as little as £199.

Direct Teamwear provides the very best customisation service to enable you to add numbers, sponsors logos and club badges to your new kits or training wear.

Visit directteamwear.co.uk to see the full range of kits - starting at £199 - or call Direct Teamwear on 0161 408 4799 to discuss all your kit and teamwear needs.

But don't miss out on your chance to win an Errea kit for your team and start the new season feeling brand spanking new. Good luck!

>>> Click here to sign up to exclusive offers and updates from Direct Teamwear! <<<
How do I enter?
To get your name in the hat for this fantastic prize, just complete a few details and answer the following question...
Have you won a Football Flick Urban - the world's number one skills trainer?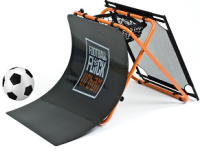 Last month we gave away three Football Flick Urban units - the world's number one skills trainer.

Thanks for all of your entries and many congratulations to three lucky winners who each have a Football Flick Urban unit to use at home or with their team mates at training:

Mark Whittaker of Clodan Youth FC, Wayne Churchill of Andover New Street FC and Jimmy McMurchie of East Stirlingshire FC 2000s.

If you didn't win this time around, don't worry - there's always another chance to win just around the corner with Club Website!