Record breaker Maccer out to make it six in six

14 Oct 2011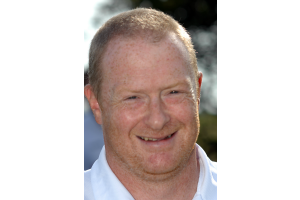 Player/manager Iain McNaught (pictured) will hope to mark his 700th appearance tomorrow by leading his side to a sixth straight win. The table-topping Casuals go to bottom of the table Eastrington Village Reserves determined to avoid any formbook upset.
Maccer has named an unchanged fourteen from that which won 2-0 at Shiptonthorpe last Saturday and a repeat of that result tomorrow will further cement their place at the top of Division 5 with a third of the season gone.
Obviously, the manager's milestone adds extra significance to the day. It is an achievement lauded in tomorrow's match programme for the First Team's CML fixture against Westella.
Therein vice chairman Mike Wilson, who managed Maccer for many of his 28 years' playing career, writes: "I'd like to congratulate Iain on his fantastic achievement. He progressed from boys football through to the men's First Team, showing great promise as a centre half along the way, and has never looked back since.
"Iain has been an excellent player throughout his career - how many Man of the Match's Maccer?! I cannot thank him enough for all he's done for the club in the past and the effort and commitment he continues to show.
"Initially he had a few disciplinary issues (!) and at one time he also tried to convince me he'd make a decent centre-forward – I don't think so Maccer!
"However, his loyalty to Easington United has been outstanding. After moving from Welwick he could have played for several Hull teams but has instead remained loyal to us throughout.
"As manager for most of his playing career I'd like to say "Well done". You have achieved so much throughout your career and deserve to stick your chest out today in true Maccer fashion!"
So a win is the order of the day for the locals although Maccer and assistant DC (who reached 350 appearances himself last Saturday) will guard against any complacency.
Eastrington opened up with a 4-1 home defeat at the hands of Brandesburton and have since lost to Howden Thirds (1-2) and Haltemprice Reserves (0-4). In addition they were thumped 5-0 at Newbald in the league cup. Going by these results the Casuals will be extremely disappointed should their unblemished start to the season come to a halt at High Street.
Casuals: B Akam, J Stow, L Green, D Dawson, I McNaught, D Campbell, K Akam, M Thurkettle, D Cundill, J Hope, M Findley, S Ward, K Johansson, K Hodgson
Referee: Gary Hallett (Goole)