Sport Relief runners put their best foot forward

27 Mar 2012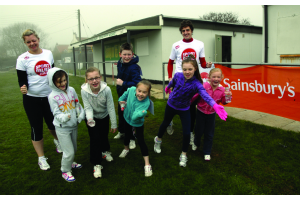 Although disappointed by the small turnout, the organisers of the Easington Sport Relief Mile, held last Sunday (25th March) agreed that staging the first such event to be held in the village was worthwhile.
Despite plenty of local publicity via the Press, radio, leafleting of schools and display of posters, the event failed to pull in anywhere near the numbers hoped for.
Still, this didn't detract from the enjoyment of those who did get out and participate in aid of a worthy cause.
About thirty runners (and walkers) of varying ages braved a cold, damp, misty morning to complete either a 1 mile or 3 mile course, according to their capabilities.
The total raised in entry fees and donations was £150, with more money coming in via those who'd also raised personal sponsorship.
It would be nice to name all those who took part and/or helped in other ways (stewarding / supporting etc) but you know who you are and rest assured your efforts are very much appreciated.

Pictured before the start are: (back) Jenny Waddingham, Elliott Rutter, Luke Taylor; (front) Grace Graham, Jessica Rutter, Emma Lusmore, Isobelle Newsam, Sophie Rutter

Picture courtesy of Terry Bearpark (Holderness Gazette)
Other pictures in the Gallery (courtesy of Burt Graham)