Website last updated: 20 May 2013 @ 11:27
Latest News
ECCLESHALL RUNNER TO TAKE ON NEW YORK

02 Nov 2011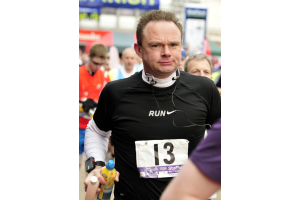 Eccleshall based 'fun-runner', Jeremy Pert, is taking part in this year's ING New York Marathon on Sunday 6th November 2011 and is hoping to raise much needed funds to support the work locally of both the Teenage Cancer Trust and Eccleshall Eagles Junior Football Club. Jeremy of Croxton has waited four years for the opportunity to take part in the 26.2 mile race and has been training since June to be able to take part on Sunday. Whilst finishing is his main objective, he also hopes to be able to support the activities of these two groups with donations and support to get past the £1,000 fund raising target. Jeremy said of the two local groups :- "Teenage Cancer Trust aims to ensure that every young person with cancer and their family receive the best possible care and professional support throughout their cancer journey, through providing specialist units with dedicated cancer wards within NHS Hospital. The work that they do is vital as cancer is the number one cause of non-accidental death in young adults in the UK." "Locally, Eccleshall Eagles Junior Football Club helps support over 200 children every year, helping them learn the skills of team working, whilst benefitting from a healthier lifestyle and helping them enjoy training and playing football. They are a local, community based junior football club who are in the middle of a big project to put in much needed new facilities in the Eccleshall area and need to raise @ £250k to develop the facilities to positively support and develop the local children in the club."

"If anyone feels able to support the fund raising challenge, I can be contacted on (01630) 620274 or via email at jeremy.pert@lineone.net or donations can be made directly online via my Virgin Money Fund Raising page at:-

http://uk.virginmoneygiving.com/fundraiser-web/fundraiser/showFundraiserPage.action?userUrl=JeremyPert&faId=150065&isTeam=false

Alternatively, Jeremy is running a Sweepstakes where people can guess his finishing time between three hours twenty and five hours fifteen with the closest guess winning Sunday Lunch for Two at a local Staffordshire Public House. Again entries to Jeremy via phone or email. _________________________________________________
For further information on this story please contact : Jeremy Pert on 07740 924659 or via email (jeremy.pert@lineone.net). Released : 29th October 2011.