Reserve Team - Season 2012-2013

11 May 2013
The Reserve Team under new manager Justin Howe had a mediocre pre-season with some good results but too many where players just couldn't bond together. In the League they finished in 13th place with 20 points and a playing record of P26 W6 D3 L17, only scoring 42 goals but conceding 79. The league campaign started with an 8-1 defeat at home against Easton Reserves and it took until the 4th game for a first win, by 5-1 at Scole United Reserves. A second win followed in the next match but it was then a further 7 games before the next one, a 6-2 win over Hemsby Reserves. The Reserves did manage to achieve home and away wins against both Scole United Reserves and Hemsby Reserves but only had one more win during the season, that against East Harling Reserves. Their 6th (and final) 'win' came as a result of Reepham Town Reserves failing to fulfil a fixture. Justin really struggled to get a team together for too many matches, often having only the bare 11 or a single substitute for games. Just when, against all the odds, it looked as though the Reserves would see out the season without having to call off any matches, they failed to raise a side against Freethorpe Reserves at the beginning of May. This with only 1 match more to play! A total of 38 players turned out for the team, with 17 year old Bradley Bamforth making the most appearance and Luke Smith the leading scorer with 10 goals. Of the 'regular' players, 5 were age 18 or under so it is no surprise that the team struggled to cope physically. 3 of the youngsters made First Team appearances, mainly on the bench but there were a few starts so, providing the team can be kept going, there is hope that as they mature the team will adapt much better next season. There were 15 players who made more than 10 appearances but only 4 who made 20 or more which gives some indication of the difficulty Justin had in keeping a settled side together.
First Team - Season 2012-2013

11 May 2013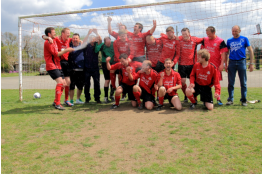 TheFirst Team finished as Division 2 champions and gained promotion to Senior football with 73 points and a playing record of Won 23 Drawn 4 Lost 1, Goals For 82 Goals Against 30. In total the team played 31 games, 25 in the league (3 matches were awarded after the opposition was unable to field a side), 1 in the Cyril Ballyn Trophy and 5 in the Norfolk Junior Cup, reaching the Quarter Final phase before losing 3-2 to Great Massingham. The league record of only losing 1 game during the season was by far the best we have achieved at this level with the first loss not coming until late February where Mundford outplayed us to record a 2-0 victory. This defeat was more than avenged in April where we dominated the game to record a 4-2 win. Highlights of the season include a comprehensive 5-1 win at home over Attleborough Town, achieving a 'double' over Bungay Town, a 1-1 draw away at Sprowston Athletic when they had their full strength team and looking as though they would 'walk' the division and, in the game that sealed the championship, a 6-1 home victory over Scole United who had outplayed us earlier in the season in an eventual 1-1 draw at Scole. The icing on the cake was a superb 1-0 win at Attleborough on the last game of the season where we showed what champions are all about and that results don't lie over the season. We proved unbeatable at home with a perfect record of 14 victories (even if 2 of these were down to the opposition not fulfilling their fixture due to lack of players), scoring 52 goals and conceding 17. There were a couple of games where we rode our luck, 2-0 down at half time at home against Beccles Caxton before going on to win 3-2, a 4-3 win over Hemsby where we had to come back from a goal behind twice spring to mind but the over riding impression of the season was the will to win shown in every game, no matter how poorly the team was playing.
A total of 29 players turned out for the team with 4 players (Danny Robb, Aaron Dougal, Matty Barwell and Simon Prior) only missing a single game during the season. 11 players appeared in at least 20 of the games showing what a settled squad the team had, and with 3 other players playing in at least 10 games. The early season injury to keeper Mark Bidewell which saw him miss the next 6 months, initially gave some concerns with 4 different keepers playing over the course of 8 games, but was resolved when Steve Piper became available on a regular basis and had a great season between the sticks. The team total of 30 goals conceded proved a much better defensive effort than in previous years and a crucial reason for the teams success. The attack proved unstoppable at times with 5 players getting 13 or more goals – if one striker was a bit off form then the others more than made up for it. The Top scorer contest was a tight run race with Ben Darby and Simon Prior taking it right down to the wire. Ben was in the lead by a single goal coming into the last game of the season but scored in that match and with Simon injured and making only a 10 minute appearance at the end of the game, confirmed his top scorer status with 18 League goals plus 4 in Norfolk Junior Cup matches in 27 games. The other highest scorers were Simon Prior with 20 (17 League, 3 Cup) in 30 games, Richie Young with 15 (13 League, 2 Cup) in 29 games, Craig Hagon with 15 (13 League, 2 Cup) in 28 games and Craig Knowles with 13 (13 League) in 25 games.
Perhaps the greatest regret during the season was our exit from the Junior Cup when a place in the final seemed to be there for the taking. We had lived dangerously in the previous rounds with a defeat in Round 2 against Division 5 Watton United Reserves, subsequently overturned by Norfolk FA because Watton had fielded ineligible players (one of those under a false name) and then in Round 4, where we went in at half time 2-0 down to Gayton United before eventually winning 4-2. A 6 week break in playing then followed due to bad weather and, in our Quarter Final match against Great Massingham, we just didn't turn up on the day to lose to a team that wanted the win more than we did. A great pity as this was a year where we could definitely have reached the final with Mundford one of the finalists. The same regret is there in the Cyril Ballyn Trophy where a 2 goal lead over Thetford Rovers in Round 2 was overturned by a 10 man Thetford for a 3-2 win. Considering one of the finalists was Bungay Town whom we did a league double over, there is the thought that we could have progressed much further in that competition as well.
As well as congratulating the players for their efforts during the season, perhaps the biggest cheer should be reserved for Darren and Stewart for their hard work in keeping the team on the straight and narrow, making innumerable calls and texts, trying to get substitutes for matches, massaging egos (do we have any Prima Donnas in the team?) and dealing with the general crap that comes the way of managers. All this for no money!!
First Team - Season 2011-2012

26 Apr 2013
The First Team finished in 10th place with 42 points and a playing record of Won 12 Drawn 6 Lost 10. In total the team played 31 games including cup matches with Danny Robb the only player to turn out in every game and 6 other players with over 25 appearances for the season. A total of 31 players turned out for the team. The team scored 65 goals and conceded 55. This compares to the previous season where we finished third (on goal difference) after accumulating 70 points and scoring 118 goals, with 52 conceded. Top scorer was again Ben Darby with 26 League goals plus 3 in the Cyril Ballyn and Norfolk Junior Cup matches. All season injury, unavailability and suspensions dogged the team, which with a small squad certainly impacted upon results. Simon Prior was injured for the first half of the season, his goals certainly being missed, even though he finished as second highest scorer on 14 for the season. No other player got double figures. We exited from the Norfolk Junior Cup at the second round stage losing 2-1 to Third Division Martham. We also exited from the Cyril Ballyn Trophy at the first attempt to UEA, capitulating 9-2 after being 2-0 up after 20 minutes. This was a morale sapping, low point to the season, the highest loss suffered by the team in living memory.
Players Player of the year was Danny Robb and
Managers Player of the year was Ben Darby
Reserve Team - Season 2011-2012

26 Apr 2013
The Reserve Team started the season off in great style by winning the Steven Williamson Trophy (The Stiffy Cup) for the third season in succession, beating Cawston in the final on penalties after a 1-1 full time score-line. The Reserves will now hold this trophy permanently as the competition is no longer being played. In the League they finished in 9th place with 30 points and a playing record of W10 D1 L15, scoring 76 goals and conceding 83. Disappointing as they had finished 4th the previous season but a fair result as the team nearly folded in November when they had to concede 2 matches due to insufficient players. Manager Stewart Buck somehow conjured some old companions to turn out for the occasional match and we survived, albeit at a total cost of £125 being the fines imposed upon the club by the League. They had their moments, beating Yelverton who finished champions and giving most of the top teams a hard game. Top scorer was Richie Young with over 25 goals. A total of 37 players turned out for the team, with Lee Murton making the most appearance and Richie Young the leading scorer with 24 goals.
Players Player of the year was Richie Young and
Managers Player of the year was Matty Barwell
Reserve Team - Season 2010-2011

23 Jun 2011
Managed by Stu Buck, the Reserves had a successful pre-season Stiffey Cup, winning for the 2nd season in succession. They carried this into the League matches with a 7-1 win over Thorpe Village Reserves and only lost one of their first nine matches. Still winning more than they lost, they had their moments against the eventually promoted teams from the division with a 3-1 win over Aylsham Reserves, a 3-2 win over Bradenham Wanderers Reserves and a 2-2 draw against Holt Reserves.
They finished the season in 4th place, unfortunate as the top 3 only were promoted, with an over record of P24 W14 D3 L7 and goals scored of 76 and against 48.

Players Player of the Year was Matty Barwell and
Managers Player of the Year Lee Merton.