Website last updated: 23 Jan 2013 @ 14:11
Club Shop Now Open
01 Dec 2011
Leigh Rovers have now opened its club shop.Just click on SHOP and grab your selv some deals!!
Adam Morris Cup
01 Dec 2011
Leigh Rovers are one step closer to silverware this season after Leigh Academicals have resigned from the South Lancs Counties League resulting in them exiting the competition.L...
New Management
10 Oct 2011
Leigh Rovers had a shake up within the management team.After a recent meeting Adam Thomason decided it would be best for the team if he was to just concentrate on the player/coa...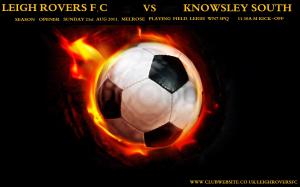 Season opener
18 Aug 2011
Knowsley South F.C have been drawn against Leigh Rovers F.C for the opening game of the 11/12 South Lancs Counties Se...
Cup draws released!
02 Aug 2011
In the Houghton memorial cup Leigh Rovers have drawn St helens rovers at home. Date of fixture tbc.In the 3rd division cup...