Website last updated: 18 May 2013 @ 20:57
Season Archive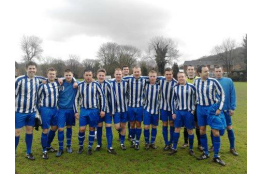 Season 2011/2012
—Manager Rob Chappell can look back on a challenging season. Rob together with Paul Benning stepped in after Alan Craven's resignation (Thank you Alan for your help).
—With the A - Team it is not easy for any manager as very often he does not know what team is available to him as the First Team and Reserves always have priority. The A – Team is an important stepping stone for our young players into Senior Football.
—Despite all this it is to the Management Team's credit that they have carried on in the top flight, a very strong Senior Section of the Wycombe & District Football League.
—Next season they will probably compete in the Premier Division
—Due to work and family commitment Rob will step down as manager but we hope he will carry on playing.
—Thank you Rob.
Fixtures and Results
| Aug 2011 | Kick Off | | Opposition | Type | F | A | Outcome | Attendance | Report |
| --- | --- | --- | --- | --- | --- | --- | --- | --- | --- |
| Wed 17 | 18:30 | H | Horse & Jockey FC | Friendly- | 2 | 4 | Lost | 37 | Report |
Sep 2011
Kick Off
Opposition
Type
F
A
Outcome
Attendance
Report
Sat 03
14:30
H
Walters Leisure

League

1
3
Lost
37
Report
Sat 10
14:30
H
AFC Spartans

League

N/A
Report
Sat 17
14:00
H
Braybrooke FC
Maidenhe-
ad Norfolkians Cup
2
2
Lost on penalties
37
Report
Sat 24
14:30
A
Hazlemere Sports

League

1
3
Lost
25
Report
| Oct 2011 | Kick Off | | Opposition | Type | F | A | Outcome | Attendance | Report |
| --- | --- | --- | --- | --- | --- | --- | --- | --- | --- |
| Sat 01 | 14:30 | A | Stokenchurch | League | 2 | 6 | Lost | 17 | Report |
| Sat 08 | 14:30 | H | Wycombe Community United | League | 2 | 5 | Lost | 14 | Report |
| Sat 15 | 14:30 | A | Great Missenden | League | 3 | 2 | Won | 27 | Report |
| Sat 22 | 14:30 | A | HFC Athletic | League | 2 | 3 | Lost | 17 | Report |
| Sat 29 | 14:30 | H | Prestwood | League | 2 | 4 | Lost | 17 | Report |
| Nov 2011 | Kick Off | | Opposition | Type | F | A | Outcome | Attendance | Report |
| --- | --- | --- | --- | --- | --- | --- | --- | --- | --- |
| Sat 05 | 14:00 | A | AFC Spartans | League | 4 | 4 | Draw | 17 | Report |
| Sat 12 | 14:00 | H | Stokenchurch | League | 4 | 8 | Lost | 27 | Report |
| Sat 19 | 14:00 | H | Hambleden | League | 2 | 4 | Lost | 17 | Report |
Dec 2011
Kick Off
Opposition
Type
F
A
Outcome
Attendance
Report
Sat 03
13:30
A
APMG Oakridge
Tom Hook-
er League Cup
4
0
Won
17
Report
Sat 10
14:00
A
Walters Leisure

League

2
9
Lost
27
Report
| Jan 2012 | Kick Off | | Opposition | Type | F | A | Outcome | Attendance | Report |
| --- | --- | --- | --- | --- | --- | --- | --- | --- | --- |
| Sat 14 | 14:00 | H | HFC Athletic | League | 6 | 2 | Won | 37 | Report |
| Sat 21 | 14:00 | A | Prestwood | League | 1 | 2 | Lost | 27 | Report |
| Sat 28 | 14:00 | A | Hambleden | League | 0 | 2 | Lost | 17 | Report |
| Feb 2012 | Kick Off | | Opposition | Type | F | A | Outcome | Attendance | Report |
| --- | --- | --- | --- | --- | --- | --- | --- | --- | --- |
| Sat 25 | 14:30 | H | Great Missenden | League | 0 | 1 | Lost | 17 | Report |
Mar 2012
Kick Off
Opposition
Type
F
A
Outcome
Attendance
Report
Sat 10
14:00
H
FC Titans
Tom Hook-
er League Cup
1
4
Lost
47
Report
Sat 24
14:30
A
Wycombe Community United

League

0
7
Lost
17
Report
Sat 31
14:30
H
Hazlemere Sports

League

2
4
Lost
37
Report
Statistics
| No | Player | Position | APP | SUB | ASS | GLS | YEL | RED | POM | RAT |
| --- | --- | --- | --- | --- | --- | --- | --- | --- | --- | --- |
| | Adam Weedon | Forward | 0 | 0 | 0 | 0 | 0 | 0 | 0 | 0.0 |
| | Aiden Taylor | Defence | 5 | 0 | 0 | 1 | 0 | 0 | 3 | 0.0 |
| | Albert O'Rourke | Midfield | 0 | 0 | 0 | 0 | 0 | 0 | 0 | 0.0 |
| | Alex Horder | | 0 | 0 | 0 | 0 | 0 | 0 | 0 | 0.0 |
| | Anthony Quigley | Forward | 2 | 0 | 0 | 2 | 0 | 0 | 0 | 0.0 |
| | Anthony James Taylor | | 4 | 0 | 0 | 0 | 0 | 0 | 2 | 0.0 |
| | Ben Heathers | Centre Half | 3 | 1 | 0 | 0 | 0 | 0 | 0 | 0.0 |
| | Benjamin Platt | | 9 | 1 | 0 | 1 | 0 | 0 | 0 | 0.0 |
| | Benjamin Vicos | | 0 | 0 | 0 | 0 | 0 | 0 | 0 | 0.0 |
| | Callum Wetherall | | 9 | 8 | 0 | 0 | 0 | 0 | 1 | 0.0 |
| | Chris Vincernt | Midflield | 0 | 0 | 0 | 0 | 0 | 0 | 0 | 0.0 |
| | Christopher Young | | 0 | 0 | 0 | 0 | 0 | 0 | 0 | 0.0 |
| | Clinton Jackson | | 3 | 0 | 0 | 0 | 0 | 0 | 0 | 0.0 |
| | Conor Doherty | | 0 | 0 | 0 | 0 | 0 | 0 | 0 | 0.0 |
| | Conor Latta | Goalkeeper | 10 | 1 | 0 | 0 | 0 | 0 | 0 | 0.0 |
| | Curtis Stone | Midfield | 1 | 1 | 0 | 0 | 0 | 0 | 0 | 0.0 |
| | Darren Jones | | 2 | 1 | 0 | 0 | 0 | 0 | 1 | 0.0 |
| | Daryl Haynes-Samuel | | 3 | 2 | 0 | 0 | 0 | 0 | 0 | 0.0 |
| | David Seers | | 2 | 0 | 0 | 0 | 0 | 0 | 0 | 0.0 |
| | Graham Potts | | 0 | 0 | 0 | 0 | 0 | 0 | 0 | 0.0 |
| | Greg Thomas | Midfield | 17 | 1 | 0 | 3 | 0 | 0 | 0 | 0.0 |
| | Gregg Langley | | 0 | 0 | 0 | 0 | 0 | 0 | 0 | 0.0 |
| | Howard Holmes | Goal Keeper | 0 | 0 | 0 | 0 | 0 | 0 | 0 | 0.0 |
| | Jack Dean | Centre Midfield | 0 | 0 | 0 | 0 | 0 | 0 | 0 | 0.0 |
| | Jaeden Burke | | 5 | 1 | 0 | 0 | 0 | 0 | 0 | 0.0 |
| | Jamie Childs | Goalkeeper | 0 | 0 | 0 | 0 | 0 | 0 | 0 | 0.0 |
| | Jamie Hunt | Forward | 0 | 0 | 0 | 0 | 0 | 0 | 0 | 0.0 |
| | Jamie Legg | | 19 | 10 | 0 | 1 | 0 | 0 | 0 | 0.0 |
| | Joe Nicholas | | 9 | 3 | 0 | 0 | 0 | 0 | 2 | 0.0 |
| | John Harding | Goalkeeper | 2 | 0 | 0 | 0 | 0 | 0 | 0 | 0.0 |
| | Kieran Latta | Left Back | 0 | 0 | 0 | 0 | 0 | 0 | 0 | 0.0 |
| | Kyran Lacey | Defender | 17 | 1 | 0 | 11 | 0 | 0 | 4 | 0.0 |
| | Lawrence Keen | | 10 | 1 | 0 | 3 | 0 | 0 | 0 | 0.0 |
| | Lee Crowdy | Striker | 4 | 1 | 0 | 3 | 0 | 0 | 1 | 0.0 |
| | Lee Sturgeon | | 0 | 0 | 0 | 0 | 0 | 0 | 0 | 0.0 |
| | Lee Vincent | | 7 | 5 | 0 | 0 | 0 | 0 | 0 | 0.0 |
| | Luke Cohen | | 3 | 2 | 0 | 1 | 0 | 0 | 0 | 0.0 |
| | Mark Bristow | | 3 | 0 | 0 | 1 | 0 | 0 | 0 | 0.0 |
| | Matthew Payne | | 0 | 0 | 0 | 0 | 0 | 0 | 0 | 0.0 |
| | Michael James Benning | Midlfield | 3 | 0 | 0 | 3 | 0 | 0 | 0 | 0.0 |
| | Mike Burch | Defence | 0 | 0 | 0 | 0 | 0 | 0 | 0 | 0.0 |
| | Mitchell Dean | | 20 | 3 | 0 | 0 | 0 | 0 | 0 | 0.0 |
| | Mitchell Steven Andrews | | 6 | 0 | 0 | 1 | 0 | 0 | 0 | 0.0 |
| | Nick John Williams | | 14 | 6 | 0 | 0 | 0 | 0 | 0 | 0.0 |
| | Oliver Brookes | Midfield | 0 | 0 | 0 | 0 | 0 | 0 | 0 | 0.0 |
| | Paul Howard | | 14 | 2 | 0 | 1 | 0 | 0 | 0 | 0.0 |
| | Pete Lowe | | 2 | 1 | 0 | 0 | 0 | 0 | 0 | 0.0 |
| | Philip Clark | Forward | 19 | 0 | 0 | 4 | 0 | 1 | 1 | 0.0 |
| | Richard Wood | Centre Foreward | 6 | 2 | 0 | 3 | 0 | 0 | 0 | 0.0 |
| | Rob Chappell | Centre Half | 17 | 3 | 0 | 0 | 0 | 0 | 3 | 0.0 |
| | Sam Prendergast | | 7 | 0 | 0 | 1 | 0 | 0 | 1 | 0.0 |
| | Sean Appleby | Midfield | 7 | 0 | 0 | 0 | 0 | 0 | 0 | 0.0 |
| | Shorif Ali | Defence | 1 | 1 | 0 | 0 | 0 | 0 | 0 | 0.0 |
| | Simeon Burke | | 3 | 2 | 0 | 0 | 0 | 0 | 0 | 0.0 |
| | Steve Goddard | Midfield | 3 | 2 | 0 | 1 | 0 | 0 | 0 | 0.0 |
| | Steve Wright | | 3 | 1 | 0 | 0 | 0 | 0 | 0 | 0.0 |
| | Tim Barber | | 0 | 0 | 0 | 0 | 0 | 0 | 0 | 0.0 |
| | Tom Allman | Midfield | 14 | 0 | 0 | 0 | 0 | 0 | 1 | 0.0 |
| | Tom Gale | | 3 | 1 | 0 | 0 | 0 | 0 | 0 | 0.0 |
| | Wayne Booth | Defence | 4 | 0 | 0 | 1 | 0 | 0 | 1 | 0.0 |
| | William Barber | Goal Keeper | 0 | 0 | 0 | 0 | 0 | 0 | 0 | 0.0 |