Website last updated: 12 May 2013 @ 14:12
History
Essex FA England Day Festival - Saturday 30th June 2012

01 Jul 2012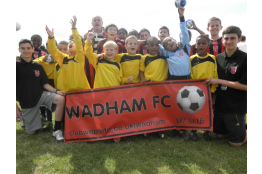 We attended this years Essex FA England Day Festival in Basildon. The event takes place each year and is attended by more than 30 Charter Standard teams. Over 300 children took part in 5v5 games, Skills Sessions and the Inflatable Zone.

Well done to all the boys who took part and to the parents who came along to support. A great day out was had by all. Our thanks to Ian Bent and the Essex FA who organised the whole event.

Our thanks also to Dave who ran the Under 7's and to Jack and Tom who ran the Under 9's teams.


Awards at the end of season 2011/2012

03 Jun 2012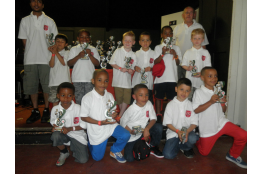 The under 7's played friendlies all season, first in the Echo Harrier division & then moved up in January one league to Eagle.

Dave would like to thank Meron & Prash for their assistance over the season.




PLAYERS WINNING AWARDS FOR SEASON 2011 - 2012
Clubman - RORY B
Parents Player - ARTIE G
Players Player - DEVONTAI W
Player of the Season - TRAYVON S
Season 2011-2012

03 Jan 2012
The U7's will play friendly games in the Echo Eagle Division between October and December 2011. From 2012 they will move up one division to Harrier
Well Done all the Under 7's on their first game of the season - 2nd October 2011

03 Jan 2012
Well done to all the Under 7's team on their very first game today at Colebrook Royals. Everyone played really well and had good support from all the parents, grandparents and friends. Your manager was very proud of you all today on your first game.