2010/2011 TEAM NEWS

03 May 2011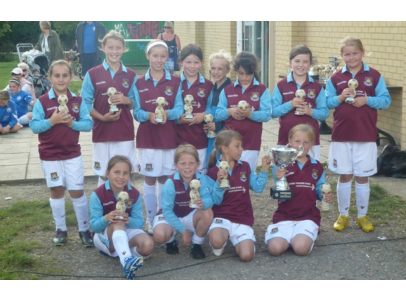 11/06/11 PLAYER OF THE YEAR AWARDS
West Ham United Ladies celebrated the end of another successful season with a trophy laden presentation night in the Paolo Di Canio Suite at Upton Park last night attended by over 300 players and guests.
Under 10 team award winners:
Players' Player of the Year: Kelly Wealthall
Manager's Player of the Year: Madeline O'Connor
Coaches' Player of the Year: Mia Seeley
Parents' Player of the Year: Carson Barry
A gallery of photos of the evening can be found at:
www.flickr.com/photos/krisslee

23/05/11 TEAM MANAGERS END OF SEASON REPORT
Dave Maslen, West Ham United Ladies Under 10s team manager, presented the following end of season report at the club's Annual General Meeting last night:
After last season's Under 10s achievements I really felt that they would be a hard act to follow, but I was surprised by the quality of the girls that we had turn up for trials. We were lucky to have three good players remaining from last season's side in Maddie and Tessa O"Connor and Carson Barry these three girls brought a quality to the squad and the new girls developed around them.
The girls got off to a flying start winning all pre-season tournaments they entered the most respectable of these being the Tottenham Hotspur tournament where the girls had victory's against Spurs, Crystal Palace and QPR , this set us up for a great season where the new players settled quickly into the team and after just a few months training and playing together they had become a very capable side and were playing a good standard of football for their age. All the girls have shown me 100% commitment to training and game play and deserve all the rewards that they get from this season .
The girls have managed to finish their season unbeaten and also reached the final of their league cup, I would like to thank Ray Wood, Jim Maycock, and Colin Bennet for all their support through the season and also Tracy Duxbury and Julia Setford for attending a few of our training sessions and games as this really give the younger girls a boost knowing that the first team manager and a first team player are taking an interest in how they are progressing.

23/03/11 CUP FINAL DETAILS
West Ham United Ladies Under 10s will meet Great Danes in the Essex County Girls League Cup Final at Runwell Hospital Sports Ground, Wickford on Sunday 22nd May.
The Hammers qualified for the final courtesy of a 2-1 semi final victory over Ryan FC whilst Great Danes were 4-1 winners over Colchester Town.

26/02/11 MORE FRUSTRATION AS DANES GAME OFF
West Ham United Ladies Under 10s faced another blank weekend as opponents Great Danes were forced to withdraw from this weekends fixture due to a lack of fit players.

19/02/11 RAINED OFF AGAIN
West Ham United Ladies Under 10s friendly fixture with Leigh Ramblers tomorrow has been called off due to a waterlogged pitch after Friday night's heavy rain.

16/01/11 FRUSTRATION AGAIN
West Ham United Ladies Under 10 made a wasted journey down the A13 to try again play their much postponed Essex County Girls League League Cup clash with Island Girls, but arrived to find a deserted ground and receive the news the game was off and to their further frustration an offer to use the playable pitch at Flanders Fields in the afternoon was declined by the opposition.

18/12/10 SNOW GO FOR CUP TIE
For the second week running West Ham Ladies Under 10s attempts to play their Essex County Girls League Cup game with Island Girls has been thwarted by the snow.
As exepcted a Saturday pitch inspection found a frozen snow and ice covered pitch and so Sunday's game has been postponed and will now be played in the new year.

14/12/10 XMAS BREAK DETAILS
West Ham United Ladies Under 10s last training session of the year at Beckton will be on Friday 17th December.
Training will recommence after the Christmas break on Wednesday 5th Janaury 2011.
A session has been planned, weather permitting, at Chadwell Heath on Tuesday 21st December when the Under 10s will be entertained by the Ladies first team squad at their trainng centre.

11/12/10 ISLAND GIRLS ICED OVER
West Ham United Ladies Under 10s were frustrated by the weather again with this weekends match with Island Girls postponed due to ice still laying on the pitches at Canvey.
Hopefully a return of warmer weather will allow the side to play next weekend when they meet the same opponents in a league fixture.

03/12/10 GREAT DANES CLASH SNOWED OFF
With several inches of snow and ice still covering the Flanders Playing Fields pitches West Ham United Ladies Under 10s Essex County Girls League clash with Great Danes on Sunday has been postponed.

28/11/10 FROZEN TIGERS
West Ham United Ladies Under 10s Essex County Girls Legaue game with Tigers was called off today after a morning pitch inspection confirmed the expected news that the pitch was frozen and therefore unsafe to play on.

07/10/10 LEAGUE CUP DRAW
West Ham United ladies Under 10s have been drawn away to face Island Girls in the first round of the Essex County Girls League Cup.
There are three first round with the winners advancing to join the five teams who received byes into the quarter finals.
The first round ties will be played on Sunday 12th December.

20/09/10 JAYS WITHDRAW
Jays Youth FC have withdrawn from the Under 10 Essex County Girls League Central/London Division due to insufficient player numbers to compete - although they are still hoping to raise enough players to play friendly fixtures through the season.

14/09/10 LEAGUE RESTRUCTURED
In a late change supported by all the clubs taking part, the Essex County Girls Football League has restructured the Under 10 age band and rather than having two four team Divisions representing the South and Central parts of the county they have been merged into an 8 team league.
The Hammers will therefore line up alongside:
Jays Youth
Ryan FC
Writtle Minors
Tigers
Leigh Ramblers
Great Danes
and
Island Girls
Fixtures have been revised accordingly although the opening day on Sunday 26th Spetmeber will still see the Hammers entertain Tigers.

03/09/10 LEAGUE FIXTURES RELEASED
West Ham United Ladies will be joined by three other sides in the London Divsion of the Essex County Girls Football League with Jays Youth, Tigers and Ryan FC also entering sides in the age group.
The Hammers will also compete with all the other Under 10s from the other divisions across the county in the league cup competition.
The fixtures kick off on Sunday 26th September with a visit from Tigers.

29/06/10 PRE SEASON TRAINING
West Ham United Ladies return to training in early July as both the senior and junior sides prepare for the new season ahead.
Junior training for the Under 10s, 12s 14s and 16s will commence on Friday 2nd July at Beckton. Existing players and those invited after the summer trials should be ready for 7.00 pm start (ensuring they have any outstanding forms, photos and training fees with them if not already sent).
2009/2010 TEAM NEWS

08 Jun 2010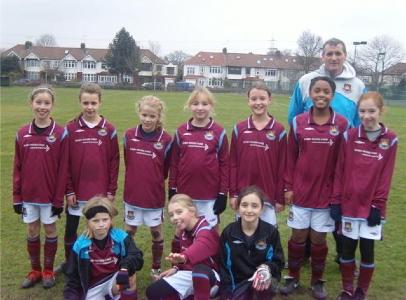 11/06/10 PLAYER OF THE YEAR AWARDS
West Ham United Ladies celebrated the end of another successful season with a trophy laden presentation night at East Ham Working Mens Club last night attended by over 300 players and guests.
The Under 10s award winners were:
Players' Player of the Year: Isobel Mills
Players' Player of the Year Runners Up: Tessa O'Connor
Manager's Player of the Year: Grace Hill
Manager's Player of the Year Runner Up: Madeline O'Connor
Most Improved Player: Olivia Smith

26/05/10 TEAM MANAGERS END OF SEASON REPORT
Dave Maslen, West Ham United Ladies Under 10s team manager presented the following end of season report at the club's Annual General Meeting at Upton Park last night:
This was the debut season for West Ham United Ladies newly formed under 10 squad and with only 50% of the squad having played competitive football before, the girls performed amazingly well as the season progressed. Before the trials day I was lucky enough to already have five young girls attending training at Beckton, all of whom made it through the trials and into the team. In addition to this we acquired another four players from trials which made up a team of nine.
The girls started their season with a few tournaments in which they showed some promising performances, with the start of their friendly season came their first and only defeat with a 1-0 loss but from that moment on the girls went from strength to strength, and with a new goalkeeper signing a few months into the season the girls were to go on an unbeaten run of 23 games, not only winning the league but also reaching the Essex County Girls Football League Cup final where they comprehensively beat Snaresbrook 9-0.
I have been pleased with the way the girls have progressed this year all have given me 100% commitment and all have showed great improvement in their football ability and development. All in all it has been a fantastic and enjoyable season for me the girls and their parents.
I would also like to say thank you to everyone at the club for all the advice and help that has been given to me through the season, notably from Jim Maycock our secretary, Tracy Duxbury, Luke Berry, and Ray Wood for all of his advice and help and also for giving me the opportunity to assist him with coaching the Under 12s last season. Finally I would like thank Tony Marshall for giving me the opportunity to run the under 10s this season.

18/04/10 HAMMERS WIN SEALS TITLE
West Ham United Ladies Under 10 sides 4-0 victory at Tigers sealed the Essex County Girls League Under 10 London Borough Division title. With two games still to play the Hammers victory gives them an unassailable lead at the top of the table and gives the side, managed by Dave Maslen their first taste of silverware in their first season with the club.
The side will now look to make it a league and cup double when they meet Snaresbrook in the League Cup Final at Runwell Hospital Sports Ground on Sunday 23rd May.

28/03/10 CUP FINAL NEWS
West Ham United Ladies Under 10s will meet Snaresbrook in the Essex County Girls Football League Cup final on Sunday 23rd May. The final wil be held at Runwell Hospital Sports Ground in Wickford.
Snaresbrook, who also play in the London Division with the Hammers, reached the final after a comprhensive 9-0 win over Great Danes in their semi final

14/02/10 WRITTLE UP NEXT IN CUP
West Ham United Ladies Under 10s will travel to face Writtle Minors in the quarter finals of the Essex County League Cup after their first round win over Hutton.
The tie will take place on Sunday 28th February with the winners gaining a home semi final tie against either Tigers Black Sox or LOASS.

19/01/10 LEAGUE CUP DRAW GIVES HAMMERS AWAY TIE
West Ham United Ladies Under 10s will face an away tie at Hutton in the opening round of the Essex County Girls League Cup competition. Fourteen teams have entered the competition so two teasm ahve received a bye to the quarter finals with the remaining twelve paired up in first round ties.
The first round is scedhuled for Sunday 31st January with the competition final - played alongside the other age group finals - set for Sunday 23rd May.
Full Draw
Colchester Villla v Snaresbrook
Hutton v West Ham United
LOASS v Barking
Rayne Girls v Copleston Sports Village
Tigers Black Socks v Tigers Yellow Socks
Tiptree Jobserve Girls v Writtle Minors
Great Danes - Bye
Hawkwell Atheltic - Bye

17/12/09 LEAGUE PROGRAMME ANNOUNCED
West Ham United Ladies Under 10s side found out they will take part in a 4 team league in the New Year when the fixtures were released yesterday.
The Hammers will compete in the Essex County Girls League London Division alongside Tigers, LOASS and Snaresbrook with each side meeting each other three times in the twelve week programme.
In addition the Hammers will compete in the League Cup alongside sides from the East and North Divisions, all battling it out to reach the final which is played at the League's Finals Day on Sunday 23rd May.

16/12/09 CHRISTMAS BREAK
The last training session at Beckton for junior sides will be on Wednesday 23rd December, when it is hoped some of the ladies first team squad will be helping with the session.
Junior training will recommence on Wednesday 6th January 2010.

5/11/09 GIRLS CHEER ON HAMMERS IN LAST GASP WIN
With the kind help of the West Ham United Community Sports Trust the West Ham United Ladies Under 10 squad had a night off from their usual Wednesday evening training session and were at Upton Park last night to watch the last minute drama of the Hammers 2-1 win against Aston Villa.
"For many of the squad this was the first live Premiership game they had attended and it was certainly a great game to remember in future years as your first," explained the Junior's Secretary Jim Maycock, "Our thanks go to Katie Holmes, the Women and Girls Development Officer at the Trust, for helping to give the girls such a terrific evening and to our coaches David Maslen and Luke Berry for taking them along."

11/06/09 HAMMERS GET YOUNGER
For season 2009/2010, West Ham United Ladies will be running an under 10 side in place of their previously youngest Under 11 age group team. The switch means the club now operates all four junior sides on two year age bandings and for the first time will allow girls in school Year 4 to take part in competitve games for the club.